I am from Odessa, born and raised here. I grew up in the oil and gas industry where all my family and friends worked, and I graduated from Permian High of Friday Night Lights fame.
Following in my family's footsteps, I joined the energy industry and am the first in the family to get this type of degree, a Bachelor of Science in Engineering. I chose to pursue my degree locally at the University of Texas Permian Basin because of its better access to resources and its location in the Permian, one of the world's largest oil fields.
I originally worked for another service company, and I joined W&W when Jason Waters, W&W's President, offered me the chance to work while also continuing my studies. I attended night classes and maintained a full-time job at W&W while pursuing my degree.
The University's Petroleum Engineering Department with its brand-new facility was a great place to study. It is an ABET-accredited University and I was lucky to learn from great teaching staff. There were around 100 students in the program and my classes were made up of people from many different backgrounds and work experiences.
So far, I have been able to use the organization, time management, and project management skills I learned in school while executing projects for W&W. I am now looking forward to helping W&W continue to supply fit-for-purpose engineering solutions to Permian clients and executing our superior pipeline installations and field facilities construction.
It's a relief to be done with my studies … for now! I'm forever grateful to W&W's leadership for supporting me in furthering my education.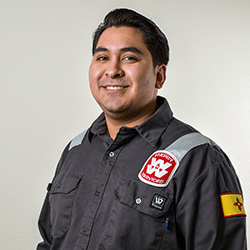 Latest posts by Matthew Garza
(see all)